Ice skating, a leisure activity accessible to people with reduced mobility
As with snow walkingice skating is a leisure and entertainment activity that is accessible to people with reduced mobility.
Previously excluded from these activities, people with disabilities can now also enjoy the pleasures of skating.
Lugicap Ice, a worldwide unique innovation
Lugicap offers innovative and revolutionary products. We offer you the opportunity to take part in sliding activities, despite your disability and without having to transfer your wheelchair.
On board the sledges Lugicap Ice or Lugicap Ice Perfice skating and ice walks are yours for the taking.
At Lugicap, our aim is to enable people with reduced mobility to enjoy board sports with complete ease.
Lugicap Ice and Ice Perf sledges are designed for this purpose: wheelchair ice-skating without changing wheelchairs.
Would you like to order a Sled ?
Consult us for rates
Different types of ice for skating
Ice skating is possible on many different surfaces:
On an ice rink
You can use a Lugicap Ice or Ice Perf in any ice rink in the
world. We're talking about real ice here, even if it's artificially produced and
maintained with special machines.
On a synthetic ice rink
You can also use a Lugicap Ice or Ice Perf on synthetic ice. You'll enjoy the sensation of skating and gliding, and maximum pleasure, without the cold!
On a frozen lake or river
It's great to be able to skate on ice with your wheelchair in the great outdoors. Frozen lake, frozen river, anything is possible! Just as for able-bodied skaters.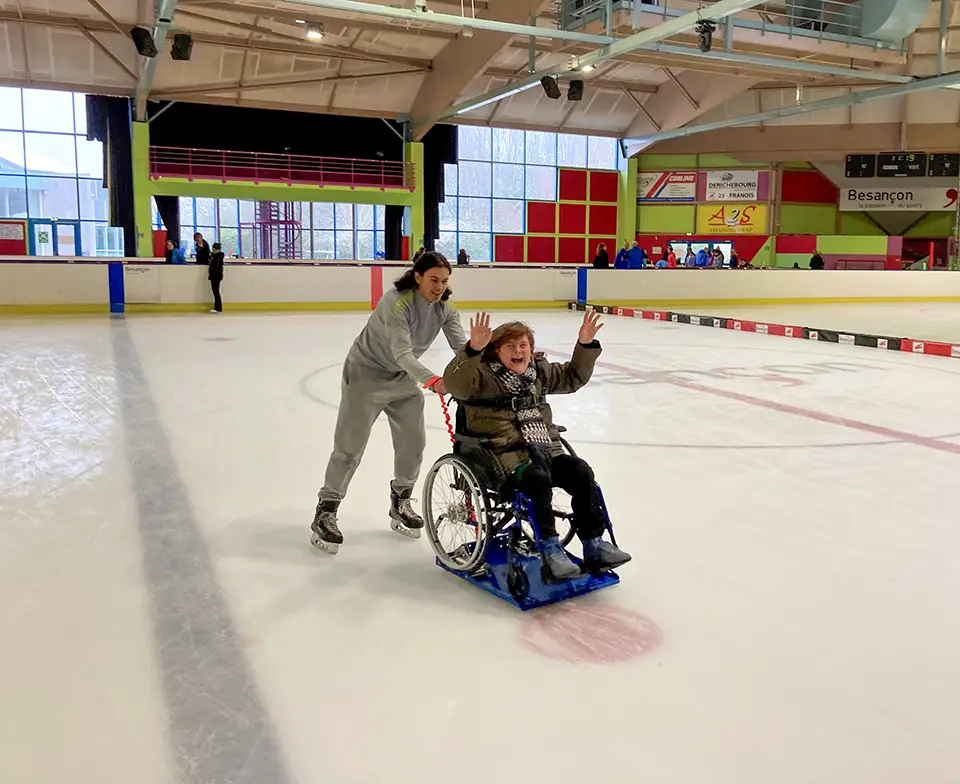 No matter what type of ice you skate on, Lugicap guarantees you unforgettable moments aboard your Sled Lugicap Ice or Ice Perf, unique ice skating equipment for disabled wheelchair users.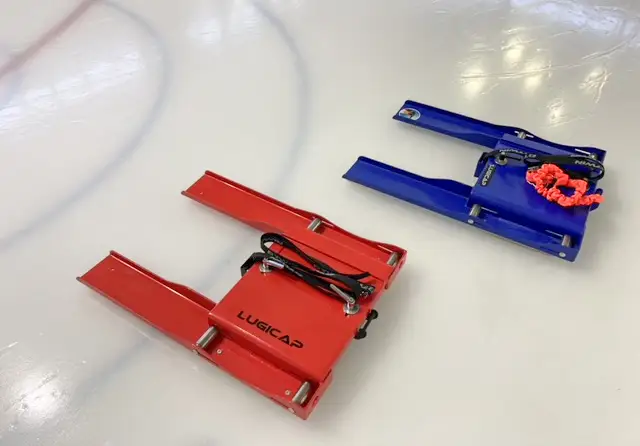 How does a Lugicap Ice skate work?
A Lugicap Ice or Ice Perf is a support for all models of 3 or 4-wheel manual wheelchairs.
So the disabled person doesn't have to change chairs. They stay in the comfortable chair they're used to.
The Sled Lugicap allows you to move around on the ice with an attendant.
The wheelchair is securely fastened to the Sled with quick adjustment by means of clamps or stops.
The 2 pieces of equipment are then perfectly connected.
Now you're ready for the thrill of sliding and skating!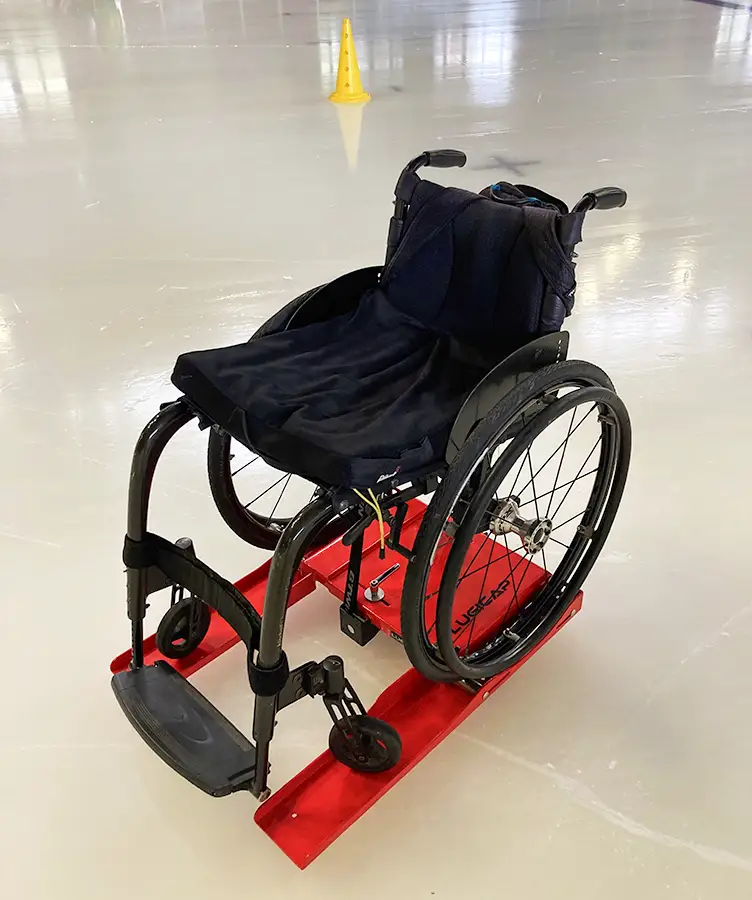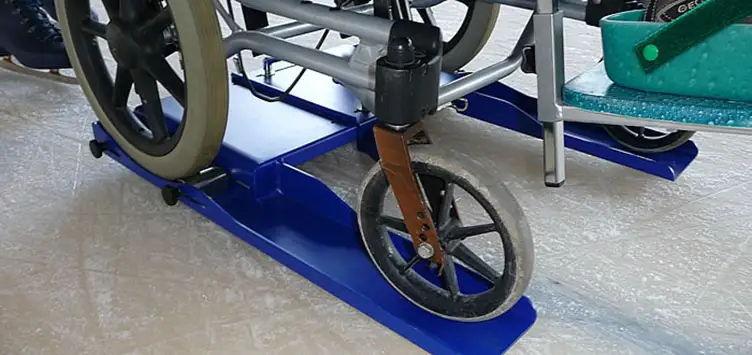 How does ice skating work in a wheelchair?
A guide must accompany you on every outing. This person is responsible for propelling the Sled. Simply push the wheelchair with the rear handles.
Activities associated with Lugicap toujours equipment require a minimum of 2 people: a disabled person in a wheelchair and a companion.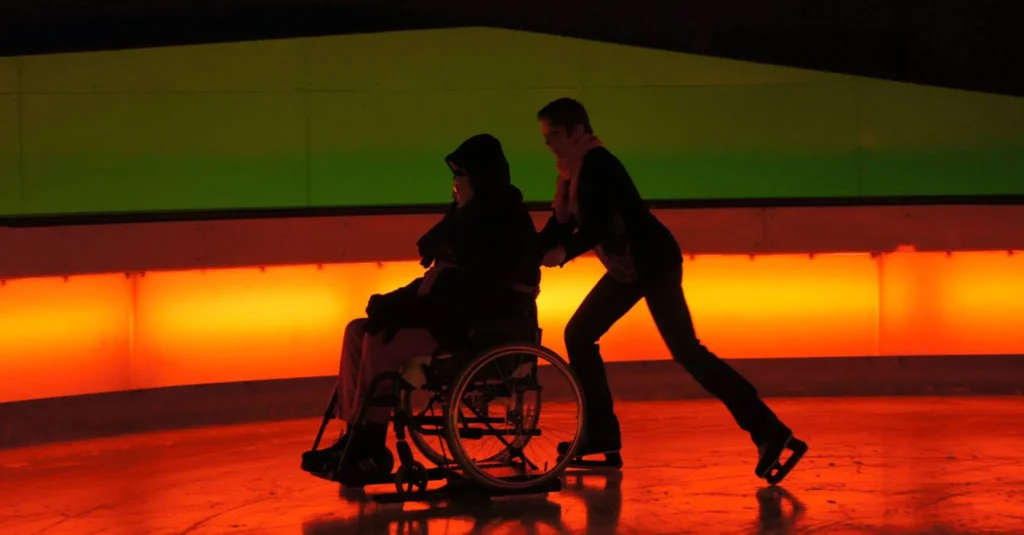 How do you get the most out of skating in a wheelchair?
Comfort and safety go hand in hand.
People with disabilities need to be comfortable and secure in their wheelchairs. To avoid slipping with the movements, the speed...
If the person feels slippery in the chair, don't hesitate to tell us so we can adjust the position. This guarantees maximum comfort and gliding pleasure.
To ensure a safe installation for the disabled person, we recommend the use of a support harness, which we also offer as an option.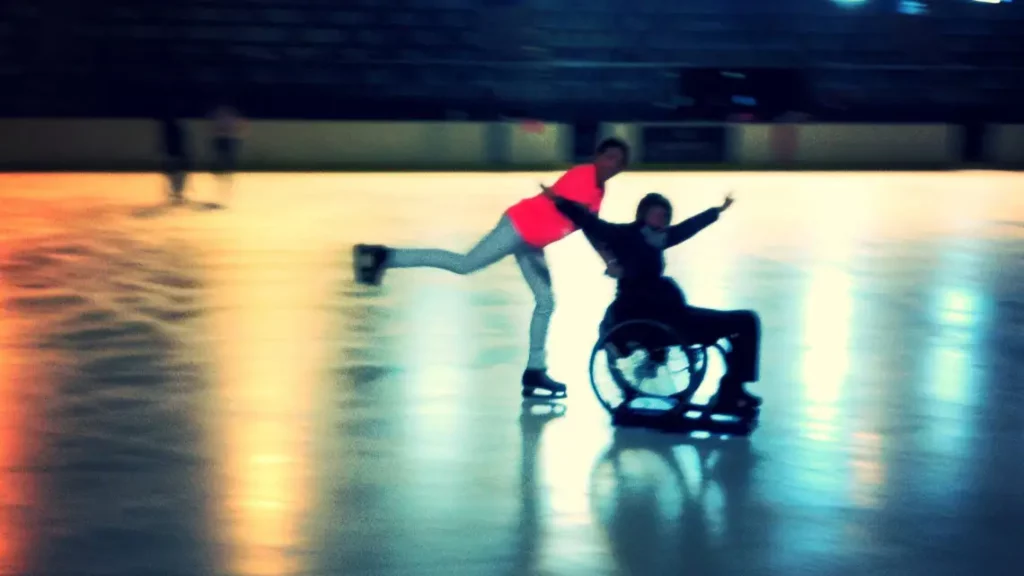 For wheelchair users, a Lugicap Ice or Ice Perf allows you to skate with family and friends.

New horizons, new infinite possibilities for leisure and freedom open up to you.

These incomparable gliding sensations are waiting for you.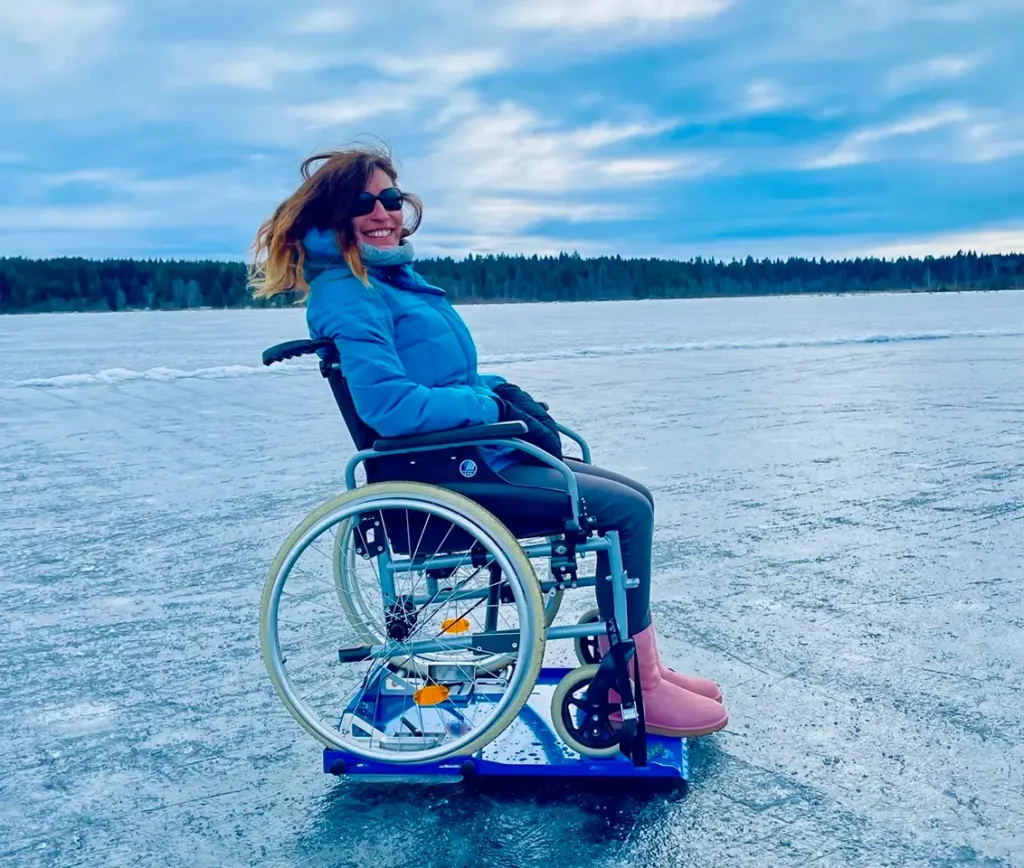 Customer testimonials
Christelle Khan
2023-08-29
With much delay, I wanted to thank Franck from Lugicap who accompanied my son Leny on a trip to La Toussuire in February. He came all the way from Besançon, just for one morning. Thanks to "make a wish", Leny was able to enjoy a dog sled ride. The journey to this one was made possible by Franck and his team. 1000 thanks for everything you do. It was an unforgettable experience for him and for us. Long live your project, it's good to have people like you!
This company called on Encre Digital in Metz to write content for their website. I worked as a subcontractor for Encre Digital and never got paid. I would therefore advise against Lugicap, as well as Encre Digital, as B2B partners.
Axelle Laurent
2023-04-10
An innovative product that allows wheelchair users to enjoy the pleasures of winter sports!
MOUREY Coréane
2023-04-09
Thank you to lugicap for introducing us to quality products, perfectly designed to combine safety, comfort and ease of use.
Great for winter walks! Lugicap is very practical! 5 stars!
Gregory BOUME ELEND
2023-04-03
As its name suggests, the lugicap is an easy-to-access, easy-to-use concept for people with reduced mobility. It offers sensations rarely found in a wheelchair. If you're lucky enough to try it out, you'll adopt it immediately 🙂 I highly recommend it!
As a Christmas present for our wheelchair-bound son, the lugicap lived up to its promise of being quick and easy to use. Strolls on groomed snow: on the flat, it glides along smoothly and effortlessly, and the (small) descents are gentle, as are the ascents. Our son couldn't agree more!
emilode kaprielian
2023-01-31
Getting around in the snow in a wheelchair becomes a real pleasure thanks to lugicap
Frank Emeyriat
2022-04-20
LUGICAP invents and markets equipment adapted for people with disabilities, enabling them to enjoy snow and ice sports. 100% made in france.
Google rating score: 4.6 of 5, based on 9 reviews
LUGICAP
ICE
Consult us for rates
LUGICAP
ICE PERF
Consult us for rates