Who are Lugicap products designed for?
The Lugicap range is designed for sports activities for people with reduced mobility. This means that anyone in a wheelchair or any facility catering for people with disabilities is likely to be interested in our sleds.
For an organization, having a Sled Lugicap becomes an opportunity to offer comfort and leisure activities to a public too often sidelined.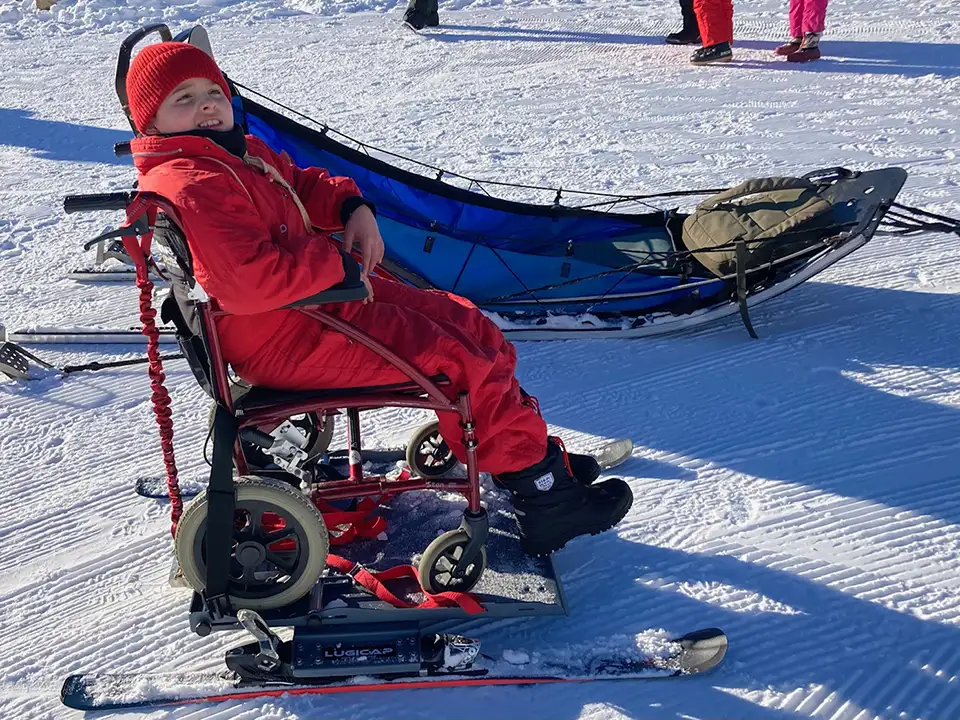 Lugicap equipment is designed for all facilities offering services and leisure activities for disabled people: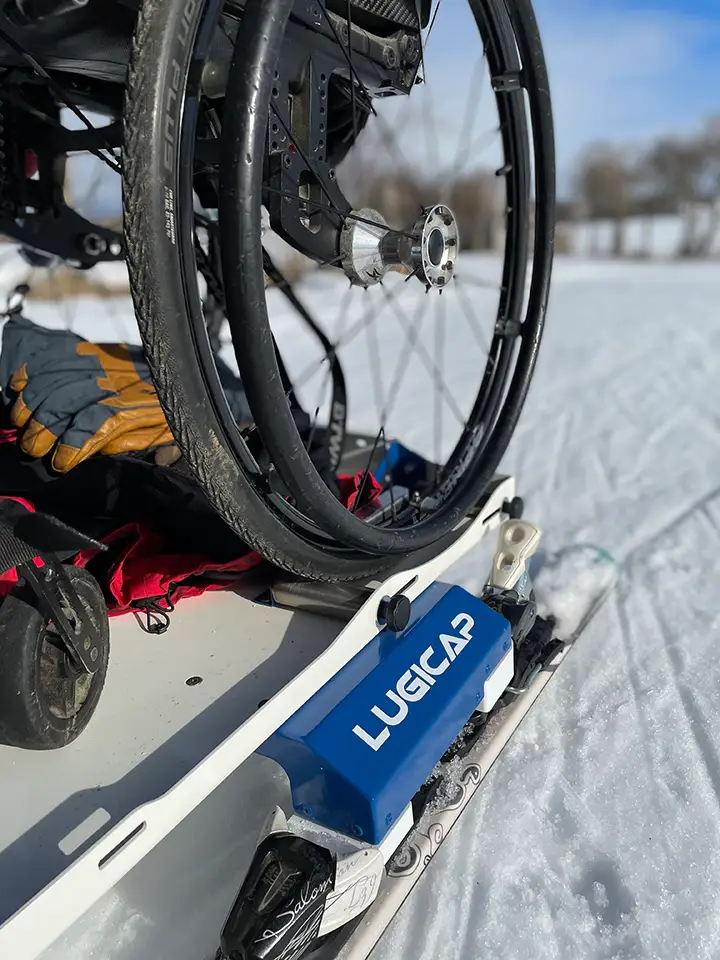 Contact us for a quote
LUGICAP
Consult us for rates
For disabled individuals
Our products Lugicap products are primarily designed for people with reduced mobility. These include children and adults with 3 or 4-wheel manual wheelchairs.
The company's motto is " access to leisure sports for all ". That's why we've developed equipment that enables disabled people in particular to take part in snow sports.
Whether it's on ice with your Lugicap Ice or Lugicap Ice Perf or on snow with your Lugicap Snowyou'll feel the pride of finally doing something you've been dreaming of for a long time.
The solution owes its reliability to the fact that the inventor of the Lugicap sleds, Frédéric Martinis himself quadriplegic.
It was he who came up with the idea of inventing a Sled, which would act as a support for his wheelchair, enabling him to take walks on snow or skate on ice. And so Lugicap was born.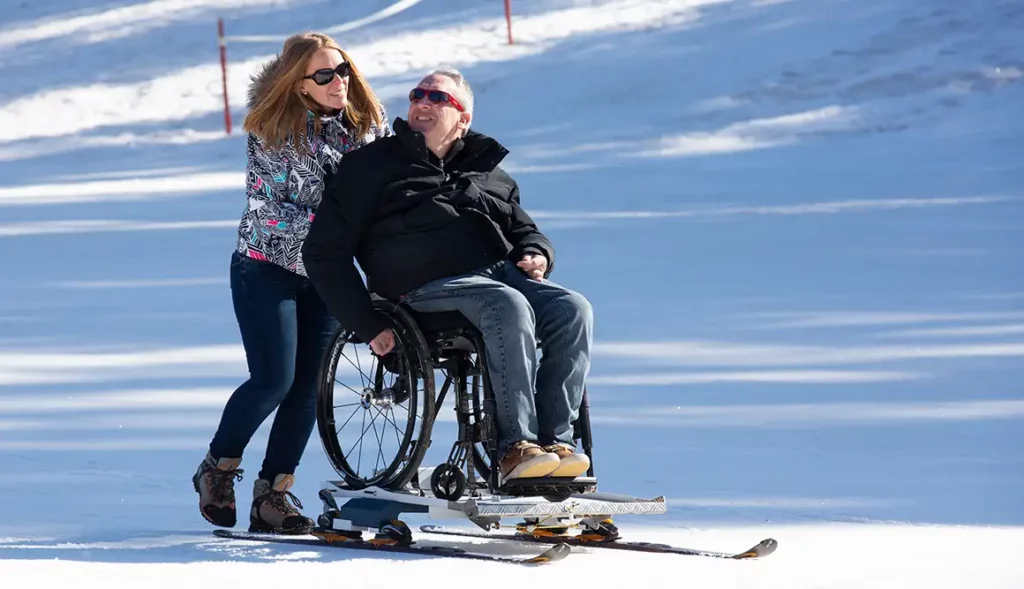 For associations developing disabled sports
You are an association that works with people with reduced mobility to promote sports and leisure activities. So you know that it's not easy to find equipment that meets the specific needs of severely disabled people.
Lugicap sleds are perfectly suited to all 3- and 4-wheel manual wheelchairs.
The Lugicap Snow product, in particular, is ideal. It transforms into Lugicap Ice with a simple kit, and vice versa.
Lugicap Snow / Ice can be used by all association members.
The 2-in-1 aspect of the product also makes it more cost-effective, as it will be used in a variety of leisure contexts.
Contact us to orderLugicap equipment for people living in your region or intervention zone.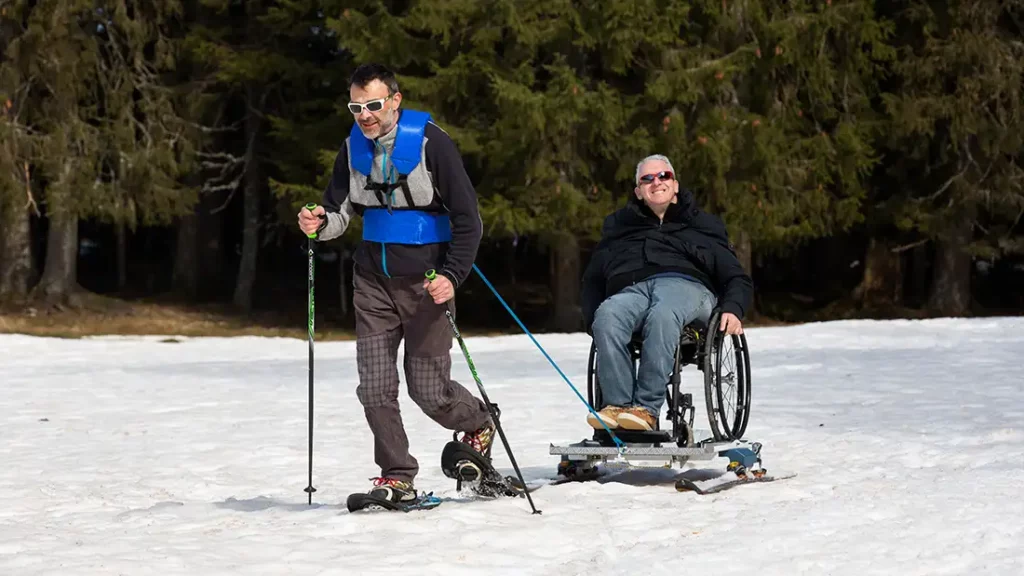 Ski resorts: promoting disabled leisure sports on snow
As a winter sports resort, are you looking to expand your range of activities and services?
Now you can add people with reduced mobility to your customer base.
With Lugicap sleds, you can offer disabled people the chance to enjoy snow sports in complete safety.
Lugicap gives you the opportunity to help bring happiness to people who are too often deprived of leisure activities and sports.
Gliding activities, including ice and snow skating, are of enormous benefit to the "Luginaute", both physically and mentally. They strengthen the individual's health and contribute to his or her mental equilibrium.
Manydisabled children in particular have never had the chance to take part in snow sports, even though they dream of doing so.
Outings to skating rinks or on snow aboard Lugicap sledges will do a world of good for these people, for whom sporting activities are generally inaccessible.
Be proud to contribute to their happiness. Because nothing beats the smile on the face of a person with reduced mobility, when they experience moments like those made possible with Lugicap sleds.
With Lugicap sleds, you broaden your offer to a new clientele. What's more, it's an inclusive approach that you can promote in your CSR (Corporate Social Responsibility) report.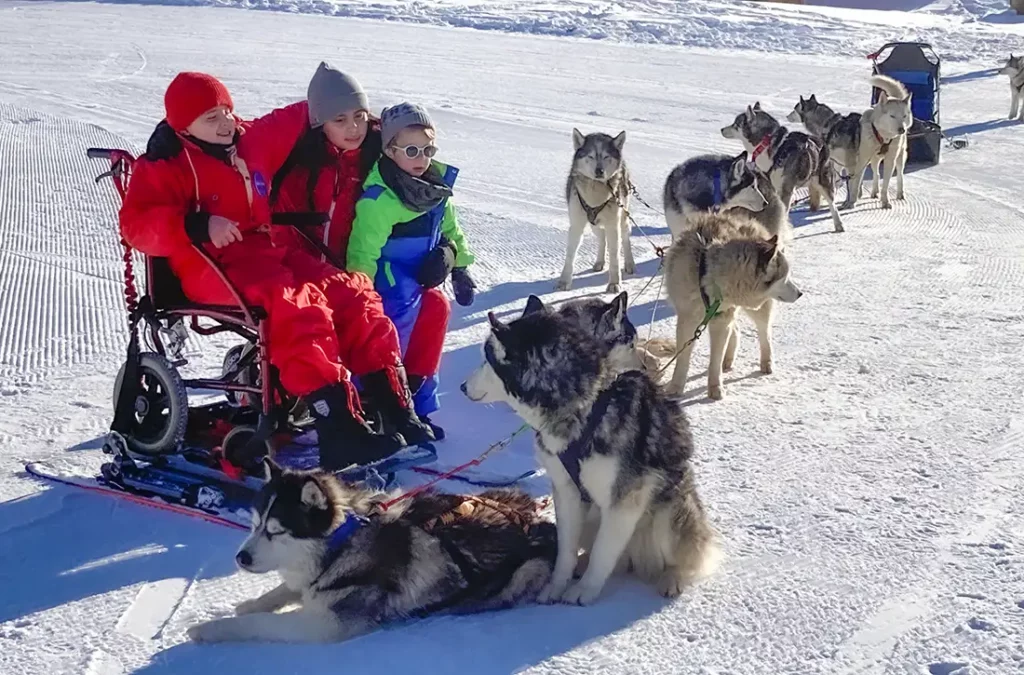 Ski schools: developing handisport on snow
As a ski school, you welcome a large number of children and families. Most of your pupils are able-bodied. But have you thought about the members of these families who are disabled?
Too often, they are left on the sidelines because there is no activity adapted to their disability. This is even more the case for sporting activities. And even more so in winter.
With Sled Lugicap Snow, you can offer a complete range of activities for the whole family. Including a member in a wheelchair.
Lugicap Snow accepts all manual wheelchairs with 3 or 4 wheels. Adjustments are made easily with straps and stops.
Lugicap Snow guides don' t need any special qualifications. However, they should be aware of the needs of people with reduced mobility, and in particular of the different sensation of cold.
Here are 2 reasons to buy a Lugicap Snow for a ski school:
Offer a sit-ski service that your competitors don't provide
Highlight your inclusive approach in your CSR (Corporate Social Responsibility) report
To order a Sled Lugicap Snow.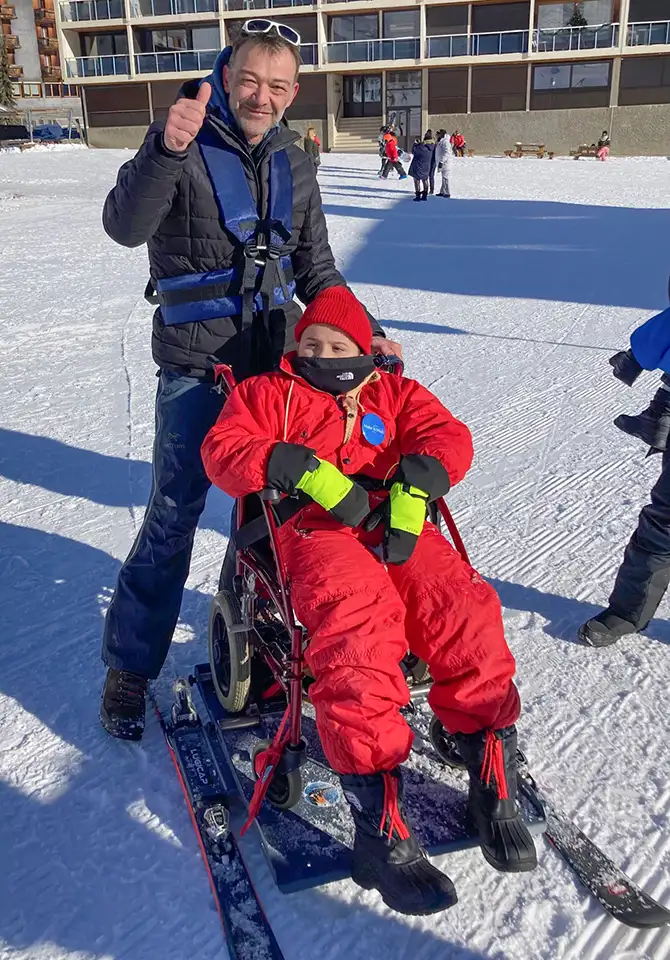 Ice skating rinks for disabled access
Thanks to Lugicap equipment, ice rinks can introduce people with reduced mobility to ice leisure activities and wheelchair ice skating.
The ideal ice leisure equipment for a skating rink will be :
The Lugicap

Ice

. It accommodates all manual wheelchairs with 3 or 4 wheels. It's easy to adjust. The equipment is always ready for use, whatever the disabled person's wheelchair. Ice skating is accessible in seconds. Its strong point is its upgradability to Lugicap

Snow

with a special kit.
The Lugicap

Ice Perf

. This Sled is dedicated to ice skating. It cannot be upgraded. On the other hand, it takes up less space and performs better than a Lugicap

Ice

. Lugicap

Ice Perf

is designed for speed and thrills. It's the ideal product for a skating rink that doesn't need a product to take it out on the snow.
Families or groups of friends can come and skate on the ice together. Disabled people are finally included in the same ice leisure activities as able-bodied people!
As an ice rink, you can expand your offer and your clientele.
Another point to remember: you can highlight the inclusion of people with reduced mobility in your CSR (corporate social responsibility) approach.
Order your Lugicapequipment here.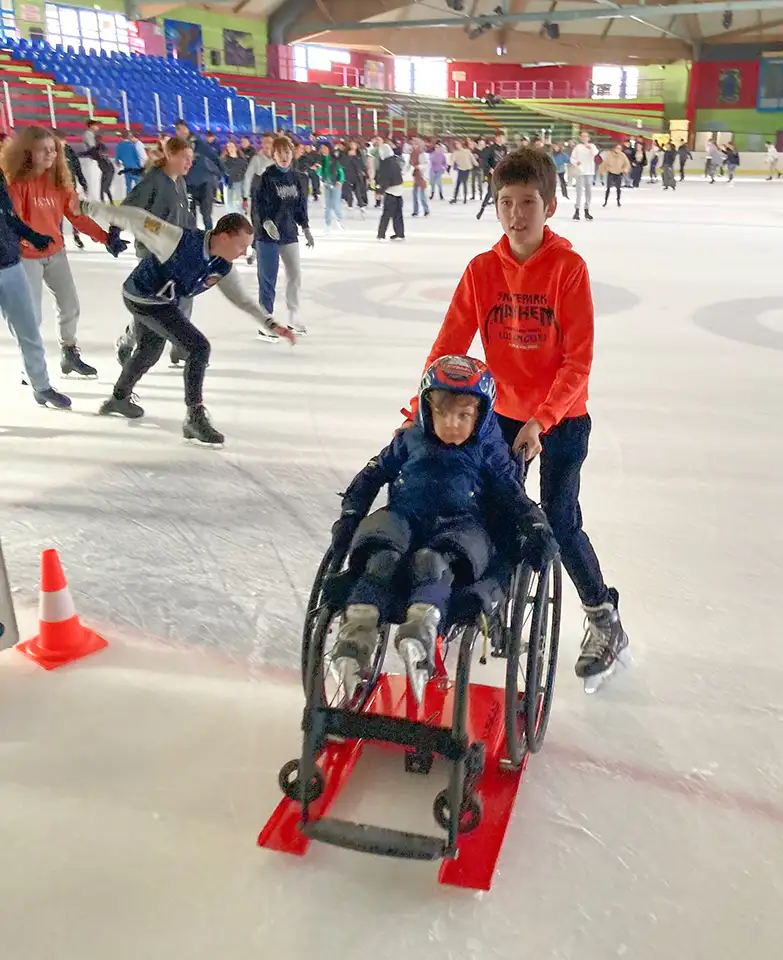 Medical-educational institutes for PRMs
For people in general, taking part in sporting leisure activities plays an important role in mental health and personal development.
When it comes to people with reduced mobility, the effects of such activities are multiplied.
However, opportunities for sporting leisure activities in winter, whether on snow or ice, are often very limited for wheelchair users.
Thanks to the innovative equipment designed by Lugicap, leisure sports for the severely disabled are now possible. This leisure sport is even possible on ice or snow.
With a Lugicap Snow / Iceyou can offer this double activity: hiking on snow and skating on ice. All without having to transfer your wheelchair. No need for a specific wheelchair either: Lugicap equipment is designed to accommodate all manual wheelchairs on the market, 3 or 4 wheels.
How do I go about it? All you have to do is order a Lugicap Snow model and specify in your order that you want the adaptation kit to transform it into a Lugicap Ice.
Are you only interested in ice skating? Then opt for the Lugicap Ice Perf dedicated to wheelchair ice skating. This model is more compact and more snug-fitting. It delivers better ice-skating performance and greater sensations.
Give your residents the chance to enjoy wheelchair activities in the snow or on an ice rink. Give them even more pleasure with our equipment designed by a disabled sportsperson for other disabled people who want to enjoy leisure sports in winter.
Order Lugicapsleds.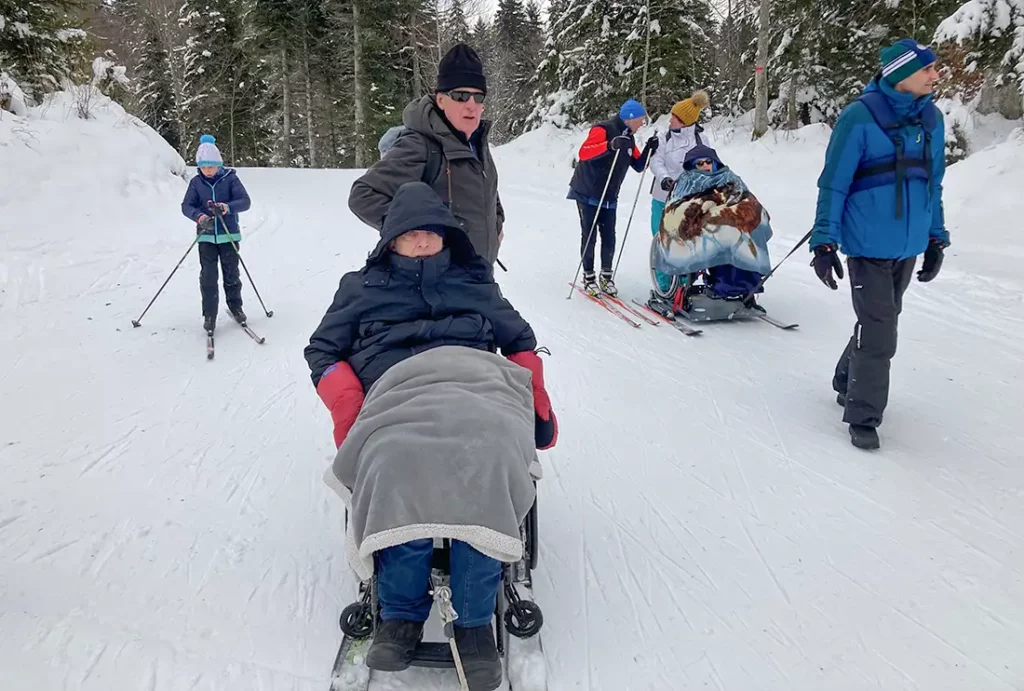 Rehabilitation centers
Rehabilitation concerns people with mobility problems. Gliding activities on ice or snow, such as those offered by Lugicap, can be of great benefit to them as part of a rehabilitation program. In fact, it's both therapeutic and profitable.
These activities help to improve balance and develop self-confidence and self-esteem. They also help to improve the patient's psychological well-being.
A rehabilitation center has everything to gain by offering its patients with reduced mobility sliding activities such as ice skating or wheelchair rides in the snow.
Depending on your environment and the facilities available, you can opt for a Lugicap Snow, which can be upgraded to a Lugicap Ice, for snow walking and ice skating, or a Lugicap Ice Perf, dedicated exclusively to wheelchair ice skating.
Thanks to Lugicap, people for whom snow sports were previously inaccessible can now enjoy these activities in complete safety.
You now have access to these new possibilities for your rehabilitation center. This represents an incomparable asset for your range of therapeutic activities for your patients.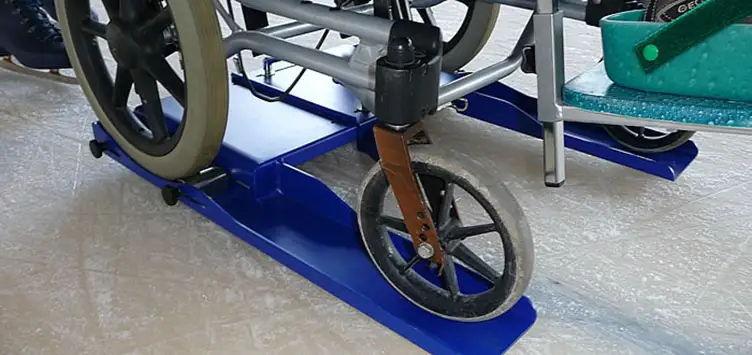 Not sure which wheelchair sled to choose?
LUGICAP
Consult us for rates