LUGICAP equipment is designed for people with all types of mobility-limiting pathologies.
Through our range, we aim to broaden the scope of physical activities available to all people with reduced mobility.
Well-being and pride are accessible to all!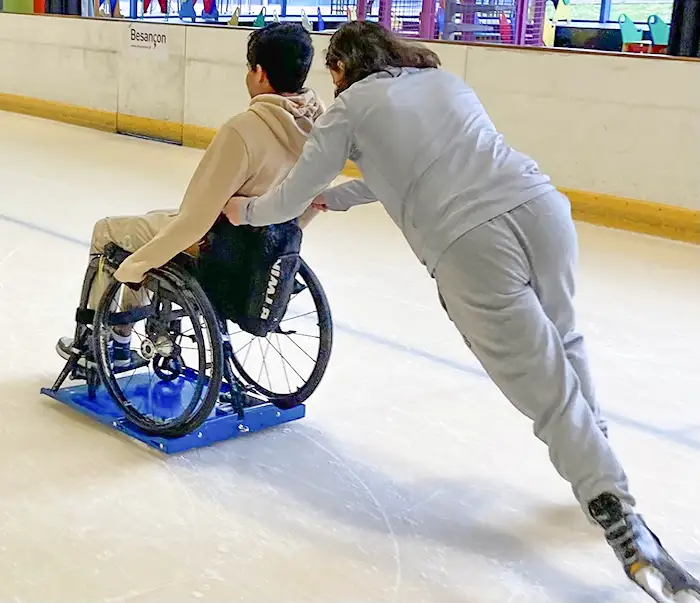 For us at Lugicap, a handicap should not be a reason to give up our passion for sliding on snow, for the great Nordic spaces, or for skating.
That's why we've developed the Lugicap offer.
From now on, people with reduced mobility can also enjoy snow sports.
What are Lugicap sleds?
The Lugicap is a piece of equipment specially designed for people with limited mobility who wish to enjoy ice skating or on the snow.
It's not easy getting on ice or snow with your wheelchair, you might say. And you're right. And that's where Lugicap comes in.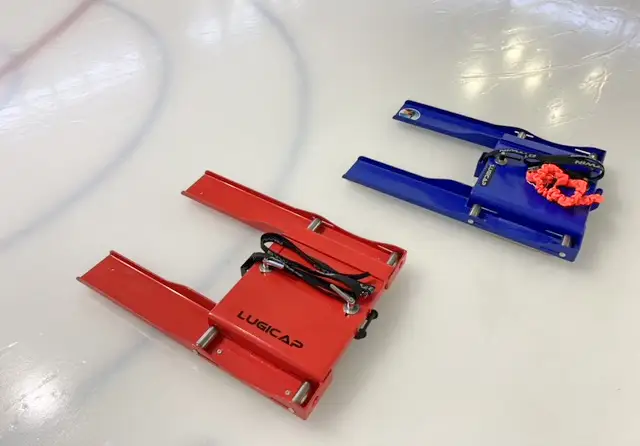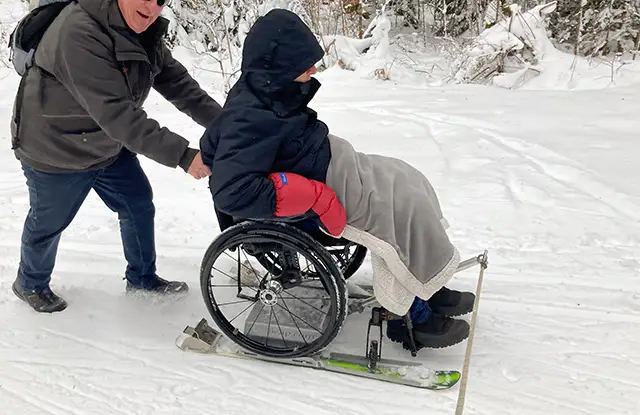 Thanks to our concept, the "luginaute" can attach his wheelchair to a Sled specially designed for this purpose. The sleds are suitable for manual wheelchairs of any size, three or four wheels. What's more, they are adjustable, which means you can adjust them to perfectly secure your wheelchair on the Sled. So it's the Sled that supports the user's wheelchair. As a result, the "luginaute" can enjoy the sensations of a ride on ice or snow.
Looking for a a walk on the snowin a ski resort or on a skating rink skating rink ? Our sleds are just the thing.
Lugicap sleds can be used on any sliding surface. Our sleds are already a hit on ice rinks and frozen lakes in Scandinavia and Canada.
What could be more beautiful than to experience the joy and happiness of being able to indulge in the gliding activities you've always dreamed of, despite your disability? Thanks to Lugicap, what you thought impossible is now possible.
Sleds for every type of user
Because tastes differ and desires differ, we've thought of many different types of use. That's why our sleds are perfectly adaptable to the context and specificities of the manual wheelchair.
Better still, if you wish, you can, as a customer, order a Sled custom-designed to meet the specific requirements of your project and your needs.
Lugicap sled specifications
When designing Lugicap sleds, we pay particular attention to the following parameters:
Safety
Beyond the leisure they offer and the wonderful sensations they provide, sliding activities can also be dangerous. That's why Lugicap takes great care to design sleds that guarantee total safety for the users of its products. Everything is carefully thought out to ensure a perfect fit between the Sled and the luginaute's chair. Everything you need to use Sled safely and easily.
Ergonomics and comfort
Because Lugicap wants to offer you moments of pure happiness, we ensure that our sleds are ergonomically designed to guarantee maximum comfort for all users: the disabled person, the "luginaute" and his or her companion(s).
User well-being and pride
Sledding activities depend on the individuality of each user. That's why we're always ready to listen to the sensations of each user, so we can constantly improve our products. The most important thing is that every passenger on our sleds feels as comfortable as possible.
What a pleasure it is to see the pride on the faces of the "luginautes" and those around them (family, friends or professionals)! Lugicap helps you push back the boundaries of what's possible.
What sets us apart
LUGICAP is sensitive to and respectful of the sustainable development of mankind.
Lugicap equipment - made in France
Lugicap designs, manufactures and tests all its sleds and equipment in France. Our suppliers are carefully selected according to the highest quality standards. The quality of our products and the safety of our "luginautes" are our top priorities.
Since his very first Sled, Frédéric Martin continues to build and test the sleds he produces as if they were his own.
What better guarantee of quality than a product designed and tested by one of its users?
At Lugicap, we respect the environment
At Lugicap, we are committed to protecting our environment. The manufacturing process for our sleds complies fully with French and European standards and directives. We comply with ROHS and REACH environmental directives.
That's why our products are delivered in reusable packaging. Thanks to their strength, these packs can also be used to store equipment until it is ready for use.
Our sleds are high quality products
Designed for sustained use, our sleds belong to the range of products that must be highly resistant to impact and other stresses. That's why we take great care to manufacture products of proven quality.
Our sleds are renowned for their robustness and durability. In fact, a well-maintained Sled can be used for many, many years.
Lugicap equipment components
Several elements go into the manufacture of Lugicap products
A support frame
An aluminum frame supports all Lugicap equipment. The lightweight frame is painted to give it an attractive appearance. It is also designed for durability and prolonged use.
A safety harness
It makes it easier to keep the user in the seat. This helps prevent falls during rides.
A lifeline
It links the rider to the entire boat. In this way, the link between user and companion is maintained, avoiding any loss of contact during the ride.
Different configurations at Sled Lugicap
---
Lugicap sleds can be adapted to certain parameters.
A Sled adapted to your activity
The characteristics of Sled may differ depending on the activity. Whether it's Lugicap Ice, Lugicap Ice Perf, Lugicap Snowor Lugicap Raidthe activities are not the same. What's more, sliding on an ice rink is not the same as sliding on snow. Surfaces do not present the same aspects. That's why sleds are designed according to their intended use.
Depending on the user's disability
The type of disability of the user is a determining factor in the choice of Sled to use. One thing is certain: the activity is possible whether the individual is quadriplegic, paraplegic or suffers from some other form of disability.
So being in a wheelchair is no longer an insurmountable obstacle when it comes to exploring the great snowy spaces or ice rinks.
No chair transfer
The strength of Sled Lugicap lies in its ability to attach to different types of wheelchair.
The user boards the equipment directly with his or her own manual wheelchair (a Lugicap is not compatible with an electric wheelchair) and the associated comfort. No need to use a specific wheelchair for the activity.
Users who so wish can also be seated in a specially designed ergonomic shell. Comfort and safety are fully guaranteed.
A 2-in-1 evolutionary Sled
The Lugicap Ice can be transformed into a Lugicap Snow, and vice versa, the Lugicap Snow can become a Lugicap Ice. A special kit makes it possible to switch from ice skating to hiking in the middle of wide open spaces covered in snow. In just a few movements, you can take off your ice skates and put on your skis, or vice versa!
How experienced is the guide?
The Sled Lugicap is designed to be operated by a companion while the user is seated in his or her wheelchair, secured to the Sled. While no specific knowledge is required to use the Sled , it is important to determine who will accompany the "luginaute" when using the Sled.
Above all, it's important to know your level of experience as an attendant for people with reduced mobility.
What's the point? So that each member of the tandem formed by the "luginaute" and his companion can experience the best possible sensations, pure pleasure in complete safety
!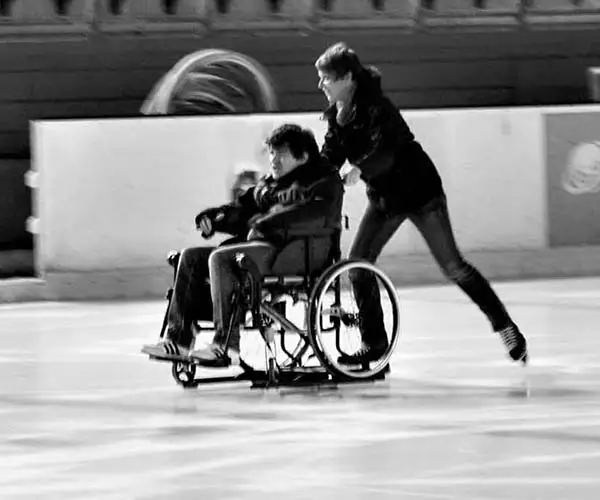 Enjoy a unique and sensational sliding experience with Lugicap sleds.
---
Choose your product