Take a ride on the Lugicap Snow
A ride on the snow is much more than just a walk. It's an experience that awakens the senses, nourishes the soul and creates memories that last. Unforgettable snow adventures that we love to relive and wouldn't trade for the world.
With sledges Lugicapsleds, people with reduced mobility can also enjoy the indescribable joys of getting out on the snow and hitting the slopes. Isn't it great to be able to enjoy activities that make you dream? Lugicap makes it possible.
Seize the opportunity to climb aboard your Lugicap Snow and off you go for a memorable, emotion-packed ride.
Lugicap Snow, a revolutionary invention
Lugicap offers innovative products that are unique in the world. We offer you the opportunity to take part in snow sports. Despite your disability and without having to change your wheelchair.
Aboard a Sled Lugicap Snowthe wide open spaces of the Nordic region are yours for the taking.
At Lugicap, our aim is to enable people with reduced mobility to take part in winter sports and enjoy outdoor outings in the snow.
Consult us for rates
Different terrains for snow outings
For your snow outings, with family or friends, you can visit :
A cross-country or downhill ski resort.
Alpine ski resorts don't just offer downhill runs. They also offer many kilometers of cross-country skiing, hiking and snowshoeing trails. Depending on the difficulty of the trails, you can enjoy them with your Lugicap Snow.
In tourism operations
In France, for example, tourist offices can advise you on the best places to go hiking with your Lugicap Snow.
For example, the trails followed by dog sled teams are ideal for beautiful rides.
Directly on the snow-covered open spaces
Places you know or that have been recommended to you for a trip on the snow with your wheelchair. As long as they're flat or slightly hilly, no problem!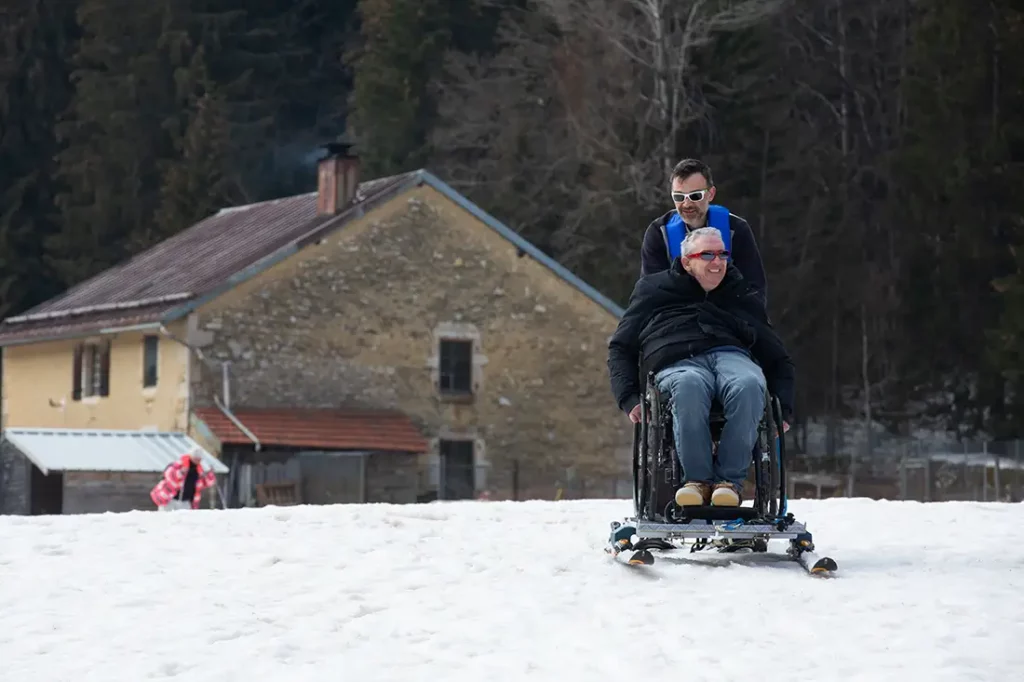 Wherever you go, Lugicap guarantees you unforgettable moments aboard your Sled Lugicap Snow, this unique equipment for disabled wheelchair users.
How does a Lugicap Snow work?
A Lugicap Snow is designed to accommodate all models of manual wheelchairs with 3 or 4 wheels.
This means the disabled person doesn't have to transfer from one chair to another. They stay warm and comfortable in their accustomed armchair.
The wheelchair is mounted on the Lugicap Snow. It is equipped with skis from Rossignol or Salomon, whose quality and reputation are well established.
The wheelchair is then securely attached to the Lugicap Snow. The 2 pieces of equipment become perfectly interdependent.
You're now ready for a great ride in the snow!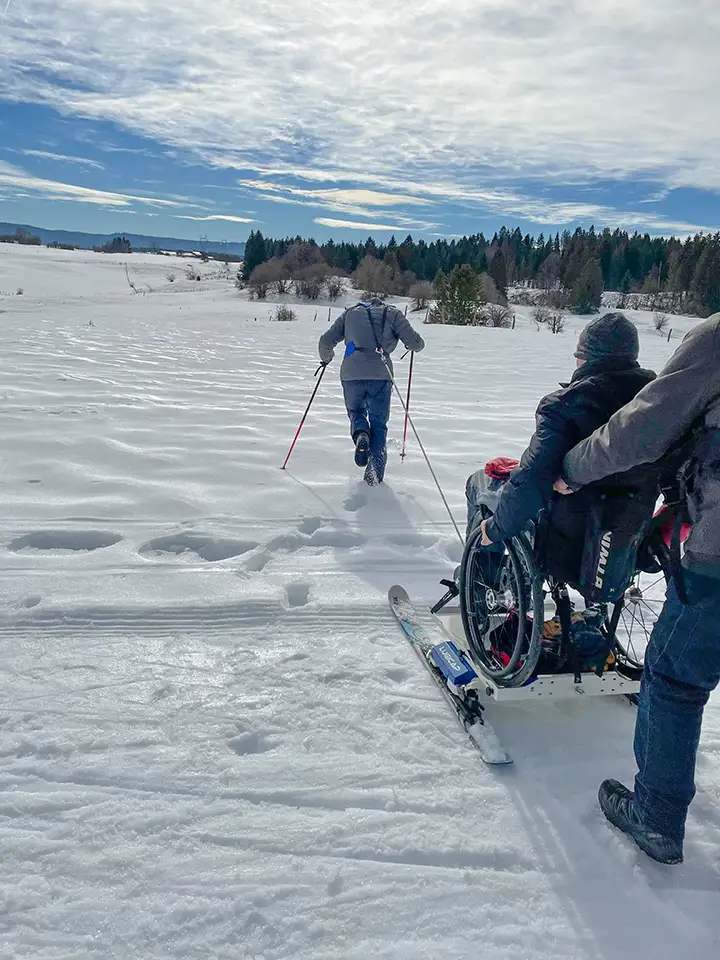 How do you propel the Lugicap Snow?
One or more guides accompany you on each outing. They are responsible for propelling or towing the Sled.
Activities associated with Lugicap equipment always involve a minimum of 2 people: a disabled person in a wheelchair and an accompanying adult.
How to get the most out of your snow tour
Comfort first
People with disabilities need to be well secured in their seats. To avoid slipping in the seat with the movements, the speed... In the euphoria, take care not to leave too quickly if you are badly installed.
Similarly, if the person slips in the chair, don't hesitate to tell us so that we can adjust the position for maximum comfort and gliding pleasure.
Before departure, your companion will make sure that the disabled person is safely seated.
For this, we recommend the use of a support harness, which we also offer as an option.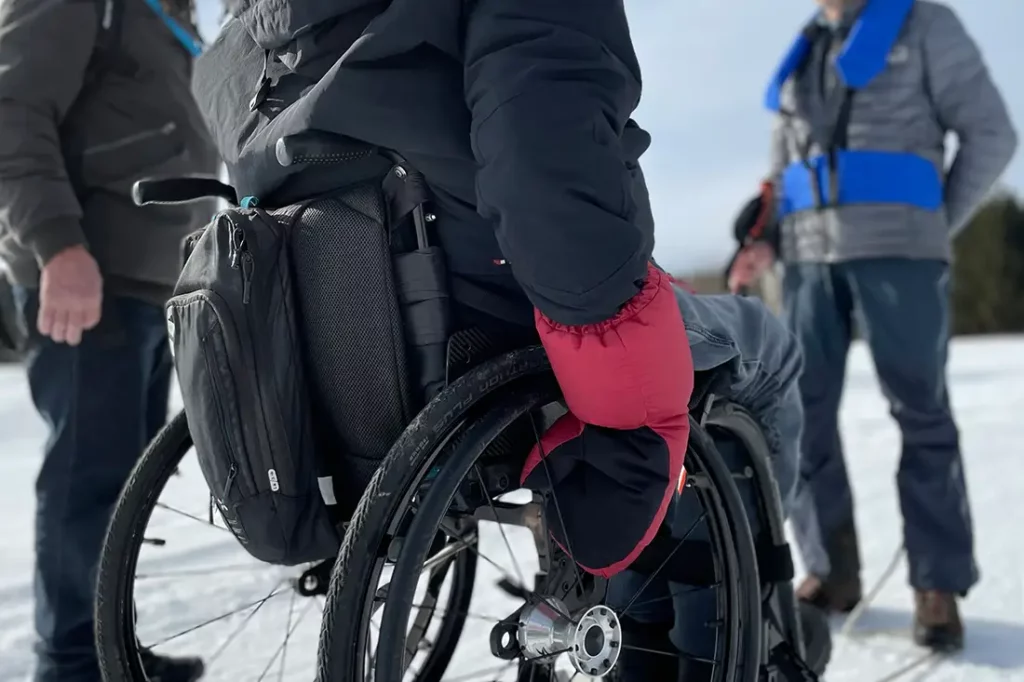 Without neglecting safety
A few points will further enhance your experience and enjoyment. Before you leave :
Scan the route you wish to take
Check that you have the right to walk on these lands, which may be private.
Start with short walks before embarking on long hikes.
For a person with reduced mobility, using a Sled Lugicap and enjoying it with family or friends opens up new horizons, endless new possibilities for leisure and freedom. You too can experience the sensations that only snow sports can offer.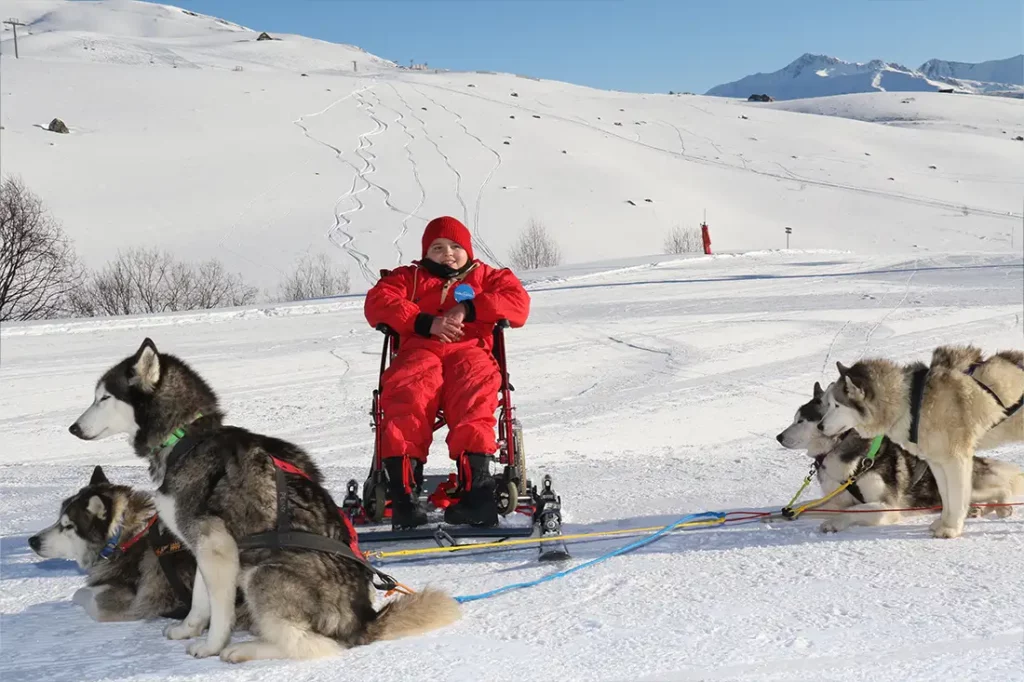 Customer testimonials
Christelle Khan
2023-08-29
With much delay, I wanted to thank Franck from Lugicap who accompanied my son Leny on a trip to La Toussuire in February. He came all the way from Besançon, just for one morning. Thanks to "make a wish", Leny was able to enjoy a dog sled ride. The journey to this one was made possible by Franck and his team. 1000 thanks for everything you do. It was an unforgettable experience for him and for us. Long live your project, it's good to have people like you!
This company called on Encre Digital in Metz to write content for their website. I worked as a subcontractor for Encre Digital and never got paid. I would therefore advise against Lugicap, as well as Encre Digital, as B2B partners.
Axelle Laurent
2023-04-10
An innovative product that allows wheelchair users to enjoy the pleasures of winter sports!
MOUREY Coréane
2023-04-09
Thank you to lugicap for introducing us to quality products, perfectly designed to combine safety, comfort and ease of use.
Great for winter walks! Lugicap is very practical! 5 stars!
Gregory BOUME ELEND
2023-04-03
As its name suggests, the lugicap is an easy-to-access, easy-to-use concept for people with reduced mobility. It offers sensations rarely found in a wheelchair. If you're lucky enough to try it out, you'll adopt it immediately 🙂 I highly recommend it!
As a Christmas present for our wheelchair-bound son, the lugicap lived up to its promise of being quick and easy to use. Strolls on groomed snow: on the flat, it glides along smoothly and effortlessly, and the (small) descents are gentle, as are the ascents. Our son couldn't agree more!
emilode kaprielian
2023-01-31
Getting around in the snow in a wheelchair becomes a real pleasure thanks to lugicap
Frank Emeyriat
2022-04-20
LUGICAP invents and markets equipment adapted for people with disabilities, enabling them to enjoy snow and ice sports. 100% made in france.
Google rating score: 4.6 of 5, based on 9 reviews