Tailor-made wheelchair activities
Unique experiences despite disability
Lugicap' s raison d'être is to give every person with reduced mobility access to sporting activities. For some, like Frédéric Martinour founder, sporting leisure rhymes with the most committed of handisport raids.
So for those of you who, like him, want to experience extraordinary adventures in spite of your disability, Lugicap offers a tailor-made offer.
It's a custom offer that depends on the customer's expectations, their disability and the type of experience or adventure they're looking for.
In all cases, we're ready to help you define your project clearly. We'll suggest the best equipment to suit your situation and expectations.
We think you have the right to want to go further than a simple the municipal skating rink or frozen lakes. or on frozen lakes. You have the right to want to go beyond the simple outing on the snow. That's why Lugicap gives you the latitude to live life-size experiences. With Lugicap Raidoffer you the chance to enjoy sporty hikes with friends or family, long-distance trips, extreme hikes, treks off the beaten track, wilderness outings - in short, real adventures...
Like Frédéric Martin and crossing the Jura in 2009 despite his quadriplegia, you too can conquer the snow-covered surfaces of your region or even the place of your choice.
The Sled Lugicap Raid tour depends on the type of disability
Knowing the type of disability of the person with reduced mobility is very important when designing and adjusting the Sled , which is to be used as a receptacle for the luginaute's wheelchair.

That's why we need to be clear about the nature of the user's physical unavailability, so that we can offer a solution that not only provides the required comfort, but also and above all security.
Rest assured, all our equipment is tested in advance by people with reduced mobility. Our aim is to supply our customers with safe, comfortable, quality sleds.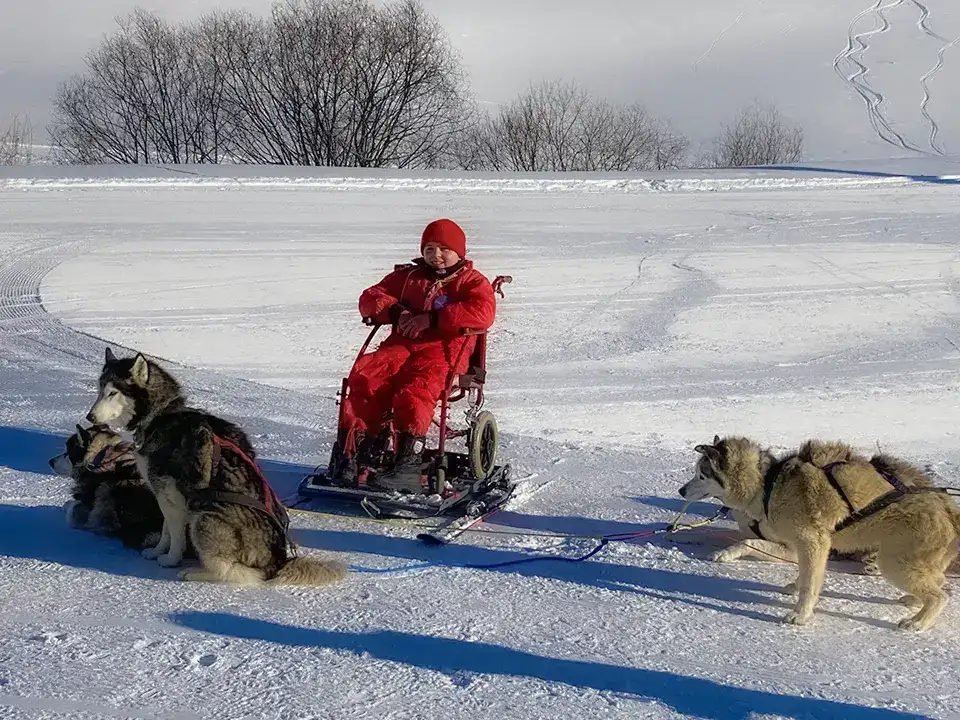 The nature of the terrain is also important
Due to the nature of the terrainDue to the nature of the terrain, the sleds are set up differently and adapted to the context of your expedition. Some surfaces are flat, while others are hilly.
That's why we need to know the location of your activity, so that we can configure Sled to meet your requirements and the specific characteristics of the terrain in question.
Understand your expectations and define your customized activity
For us at Lugicap, your comfort and safety are priceless. With this in mind, Lugicap gives you the opportunity to express your wishes, expectations and preferences.
Because every customer's expectations are different, we listen to your specific needs and your desire for adventure.
Contact us for your raid or trekking project. Together, we'll define the most appropriate product.